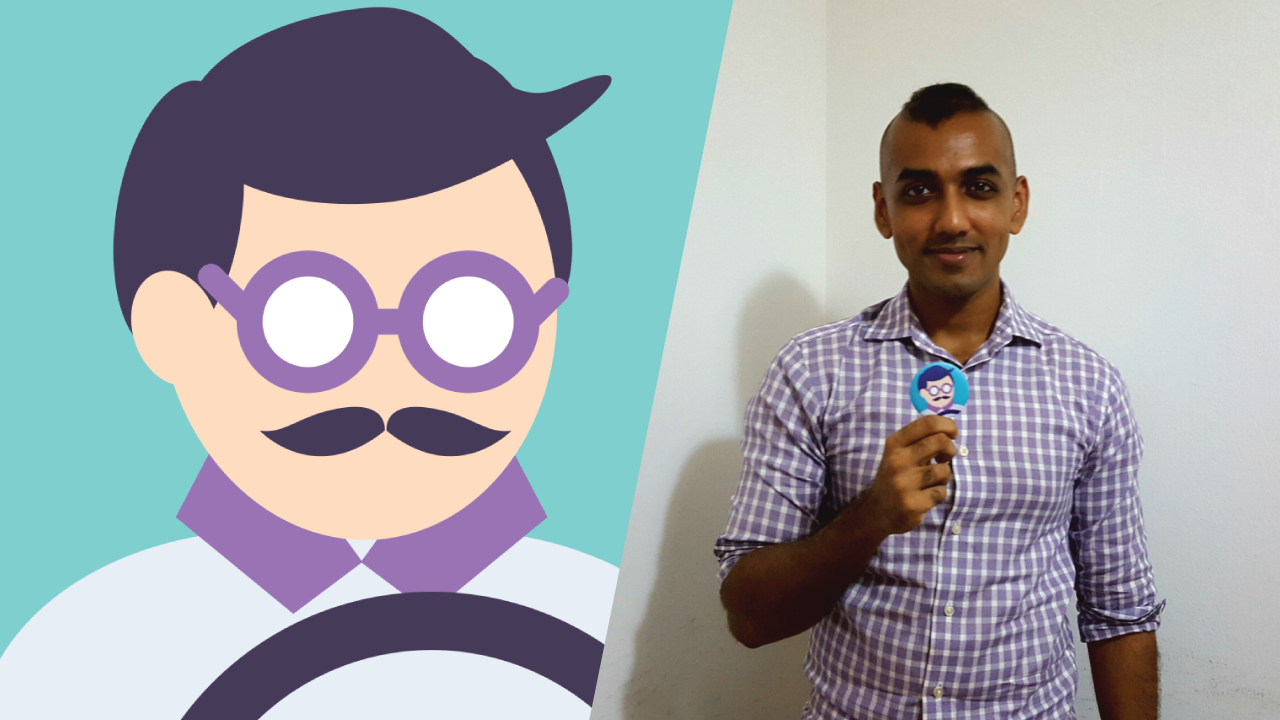 The heat in Singapore makes waiting outdoors unbearable. I whip out my phone to text Bus Uncle. Uncle replies really quickly, "Where are you? Which street lah, bus stop lah, or send me location also can."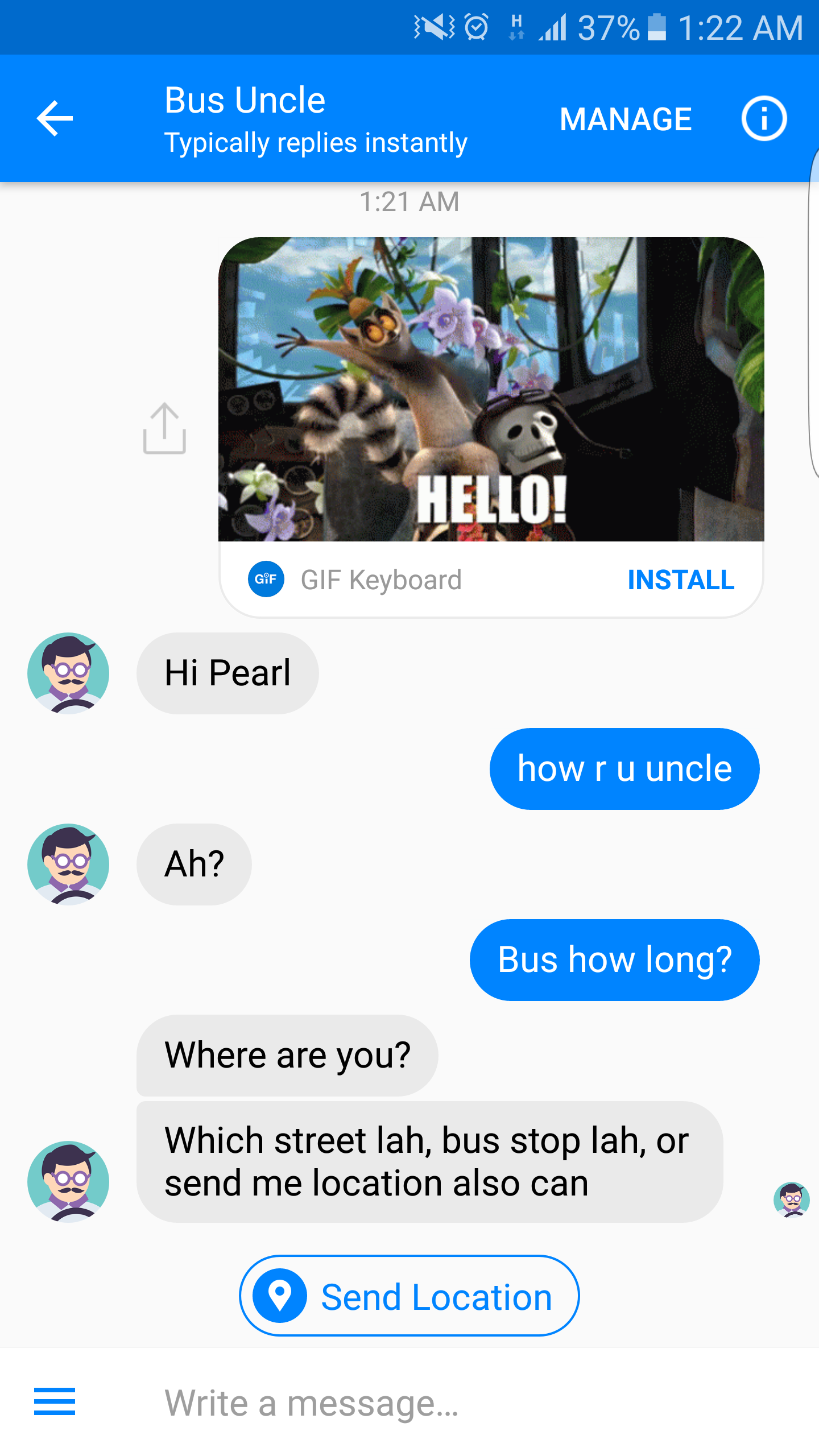 In Singapore, we call bus captains "Bus Uncle". (Uncle is a respectful way of addressing an older man.) I send Bus Uncle my location and the bus number. He replies after a few seconds. "5 mins only."
Wah, so fast reply me sia. "Thanks uncle!" But soon, I become impatient. "Still got how long ah, uncle?"
"Say hi to me I here already." The bus pulls up.
The creole chatbot
Bus Uncle does not speak Standard English. He speaks Singapore's national creole, Singlish, an amalgamation of languages spoken in the country.
Singaporeans may remember a popular sitcom, Phua Chu Kang Pte Ltd, about a contractor who wore yellow boots and sported a large mole. More notably, he spoke Singlish. The show ran for ten years, and despite its immense popularity, was criticized for its use of Singlish by Singapore's then-Prime Minister Goh Chok Tong in his 1999 National Day Rally speech. The show ended in 2007.
Nearly a decade after the show ended, a Singlish character has returned to the spotlight.
Bus Uncle is our friendly uncle in the neighborhood who drives a bus and informs users how long he will take to reach the bus stop. He currently services all the bus routes in Singapore. He responds with a mixture of patience and good-humored wit, and works hard after work hours to "upgrade" himself at "bus school" under his trainer, 24-year-old Abhilash Murthy.
Diligent, friendly, and grouchy Bus Uncle has struck a chord with Singaporeans.
Bus Uncle is a chatbot.
How to train your chatbot
Abhilash, Bus Uncle's developer, studied Information Systems Management in the Singapore Management University. Bus Uncle is a side project; Abhilash works full-time as a software developer at TradeGecko, and doesn't plan on starting up yet. "I thought of getting work experience first before starting something. For now, I'm looking at this as a side project. I'm fully focused on my current job."
He refers to himself as the Bus Uncle trainer. "As I start posting on Facebook as 'Bus Uncle', I want to say that Bus Uncle is learning to do more things. That's where I came up with the idea of a trainer."
Bus Uncle updated his Facebook Page on October 26. "Uncle just passed test at bus school, now can do new thing. When you search bus stop, I will show you white cards with more info. You can swipe swipe swipe, then just 'choose'."
"Swipe swipe swipe," I chortled at his update. It's exactly how I would describe the new feature in Singlish. I swiped-swiped-swiped my way through the list of locations, chose the right one, and waited. Soon enough, Bus Uncle responded to me. What a nice man.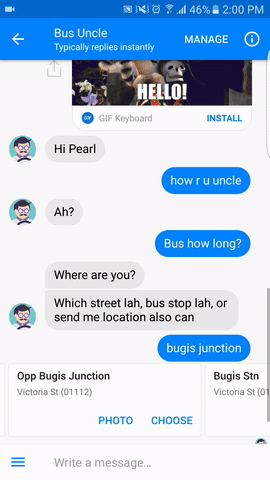 Abhilash shared with Tech in Asia that his effective training has resulted in many users mistaking Bus Uncle as a real person. "They ask things like, 'Are you human or are you computer?' The bot will reply, 'I don't understand.' And they will keep questioning Bus Uncle. I'm still thinking of responses for more common things people say."
He reads feedback from users frequently from Bus Uncle's Facebook Page and reviews. One piece of feedback he acted on, which made Bus Uncle even more realistic, was to make Bus Uncle reply wittily when users thanked him. He said, "At the start, Bus Uncle could tell you a bus time and that's it. But a lot of people requested or reviewed, 'I wish he would reply me when I say thank you.'"
Now, Bus Uncle says, "I shy leh."
Natural Language Processing helped train Bus Uncle
Natural language processing (NLP) is the key to Bus Uncle's Singlish prowess, which probably duped some people into thinking he's human. NLP is artificial intelligence that can tell what the user is trying to say and how he is feeling.
Abhilash uses Wit.ai to develop Bus Uncle. Wit.ai was acquired by Facebook for an undisclosed sum in 2015. Touted as a simple but impressive NLP tool that helps developers transform speech and text into data, it was the tool of choice for Abhilash, who had been developing Facebook applications for a while. "Wit.ai is made by engineers who specialize in voice recognition and natural language processing. It looks at any phrase and tries to understand intents and sentiments. If you want to ask how long the bus will take in Singlish, you can say, "Bus how long." The NLP service was able to pick up and understand Singlish. Naturally, because people speak to Bus Uncle in Singlish, I made the bot reply in Singlish as well."
Abhilash is hoping that more people take his lead with chatbots. The talented developer created this chatbot in just a week. "I might consider creating bots in other languages and slangs. There is some interest from other people outside of Singapore. There's a #startup in Africa that told me they are interested in localizing language and see if I could help them localize their app. I'm still exploring," he told Tech in Asia.
Bus Uncle's final exam
With more collaborations on the horizon amongst tech giants each having a foot in chatbots, it's possible NLP tools will only get better, and chatbots get more realistic.
The Singapore Bus Uncle hasn't yet taken the most challenging exam of all – the Turing test. It's not easy for a chatbot to pass the Turing test. To pass the Turing test, a computer needs a human tester to fail to distinguish it from another human being based on its responses.
At the moment, Bus Uncle still does not respond to some human sentiments expressed in speech, like anger and urgency. He repeats his lines, or asks, "Ah?"
Abhilash is working on this. "There're a lot of other things that people do, like swear at the bot. I don't have plans for that. I'm looking at the trends of how people express their sentiments and come up with something to respond."
Still, this charming creole chatbot uses the right colloquialisms and is armed with a lot of responses. He solves a simple problem quickly.
That's what everyone loves about Bus Uncle.