Lifestyle and fitness #startup GuavaPass announced today it raised a series A round worth US$5 million, capping off what has been a rocky year for this particular corner of the startup world in Southeast Asia.
The round is led by Singaporean venture capital firm Vickers Venture Partners and joined by a number of "strategic investors."
The co-founders noticed a fitness and wellness trend rising in Asia.
The Singapore-based startup launched in 2015 offering subscriptions to a number of fitness studios, classes, gyms, and other similar activities. Co-founders Jeffrey Liu and Rob Pachter had experienced high-quality fitness services in the US and wanted to strike a similar tone in Asia through carefully curated partners.
At the same time, the duo noticed a fitness and wellness trend rising on this side of the world. With things like cold-pressed juice stores, organic and vegan restaurants, and healthy snacking becoming more popular, the GuavaPass team realized consumers were more aware and demanding when it came to health.
"We were excited about this community that had started to emerge – we had this philosophy of wanting to build a social community around healthy living and wellness," Jeffrey, who's CEO of GuavaPass, tells Tech in Asia.
Encouraging a more social approach was also a big part of GuavaPass' mandate. "When I came to Asia, I realized I mostly wanted to go to classes [rather than work out alone] – it was more social and fun," Rob, GuavaPass president, says.
That's why this element is now a big part of the startup's offering. "Our bigger picture is creating a social community on healthy living and wellness, a holistic lifestyle company in Asia," Rob adds.
GuavaPass has since gone after partnerships with companies within its wheelhouse, like healthy snack subscription box startup BoxGreen and smoothie business Seed & Soil. It has also paired up with companies serving the same demographic, like Uber and certain fashion brands. Through them, it offers added perks to its subscribers.
Stronger than yesterday
GuavaPass won't reveal its user numbers, but it's active in 10 cities across Asia and the Middle East, from Singapore, Bangkok, and Shanghai, to Dubai, Seoul, and Taipei. New cities it's going after include Abu Dhabi, Istanbul, Shenzhen, and Tokyo.
By focusing on the social side of its business, the company hopes to foster a sense of community among its existing users. It plans to organize offline events in collaboration with other brands. An example could be outdoor fitness classes with Adidas and meetups where users get to interact with the GuavaPass team and give them feedback.
"A lot of the studios we bring on board are the result of feedback we get at these events," adds Jeff.
Recently, the team debuted GuavaLabs, a concept venue where it can organize such events, hold classes, and provide a consumer-facing physical presence for the company.
This helps create stickiness within the app. "We went from the first iteration of our app in December to where we're at now, introducing new studios, having branded events, having members bring in their friends. So the value creation is happening within the product and allows client retention," says Rob.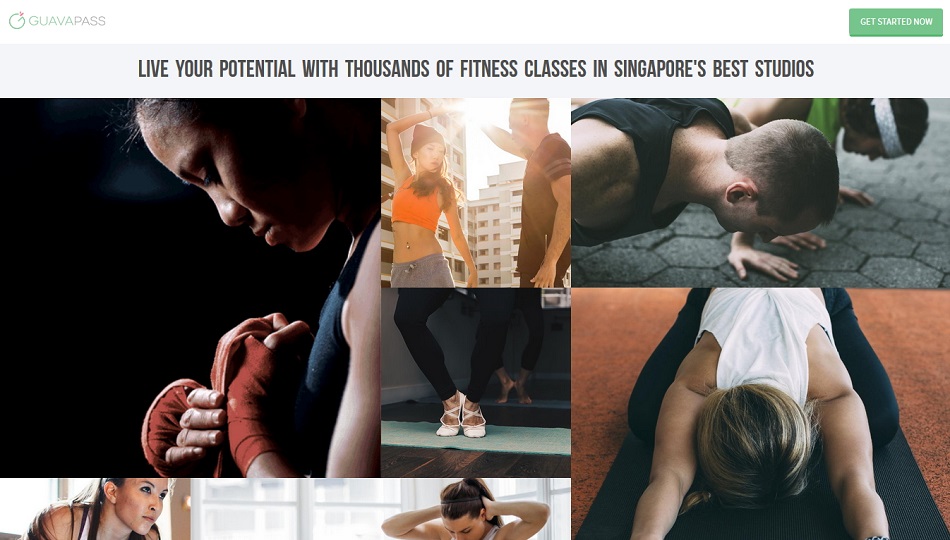 Sticking around
GuavaPass competes with Malaysia-based KFit, which is present in 10 cities in Asia-Pacific. Singapore-based Passport was active in the same space but decided to pull out in March, pivoting its business and transferring its subscribers to KFit.
KFit itself has gone through a number of transitions, like capping the number of different classes a subscriber could attend monthly and acquiring Groupon Indonesia in June. KFit has raised a disclosed total of US$15.3 million so far.
Last year there was definitely a frenzy of [fitness subscription services].
"Last year there was definitely a frenzy of these entrants and they created a lot of noise in the marketplace," Jeff says. "But when you dig past the noise you realize this business is not about just cutting deals with merchants but building strong relationships with your partners."
"We never wanted to create a bidding war, giving our product away, and attracting the wrong user base," Rob adds. "We always wanted to make sure we're in a certain ballpark and we attract the right customers. It's very easy to give away a free product."
The team feels its selection of partners and vendors is a key part of keeping up with the competition. It also experiments with flexible offerings, allowing subscribers to pay in installments of three or six months, or letting them "pause" a subscription if they're traveling for a time and aren't able to attend their classes. This also helps offset the asking price, which in Singapore is S$159 (around US$114) per month.
GuavaPass is currently happy with its growth and the co-founders feel comfortable pushing into new markets and services. It's now tailoring its offerings to each market. "The next evolution is creating more of a tailored product, so we might play around with different offerings and customizing different types of packages."
Converted from Singapore dollars. US$1 = S$1.39