Fresh from giving no fucks in Singapore earlier this year, 500 Startups' Khailee Ng appeared on stage today with an impromptu dance number at TIA Jakarta 2016.
After the high-energy entry, Khailee started his talk on a sobering note.
"There's been some bad news lately," he said. "We've heard of hometown heroes raising a lot of money, growing real big, and maybe getting sold for not that large an exit. We've heard of flat rounds, down rounds, some of our favorite companies dying. All this stuff is getting our mood down."
Nervy investor sentiment affects 500 Startups directly. His fund, 500 Durians, has invested in 120 startups in Southeast Asia over the past 24 months, which means a "few hundred" founders are now hunkering down, preparing for tough times.
22 percent of its portfolio is presumed dead.
Khailee, a managing partner at the Silicon Valley-based VC, explained there are also a lot of worrying developments that don't get reported in the media, remaining between VCs and founders.
"So yes, many founders are already in deep shit," he remarked. "I look at my own portfolio and I'm trying to get through some really hard stuff. But it's only going to get worse."
To back up his claim, Khailee cited 500 Startups' internal data that shows 22 percent of the entire portfolio is presumed dead. That's over 160 companies that are likely to self-destruct despite raising a minimum of a seed round from 500 Startups.
Across Southeast Asia, about three percent of the VC firm's startups are pretty much dead.
"I look at founders in the eye and tell them your #startup could be dead next month," quipped Khailee. "I don't know which of you are going to die but I know some of you will."
But this is all normal, he continued.
"This stuff doesn't necessarily mean times are bad," said the VC. "Unicorns happen, big companies get funded, some get acquired, some die. That's the name of the game. If you have some kind of a negative reaction to all this, then you are so deep into your own shit, you're so high on that stuff, you can't even smell what fresh air is"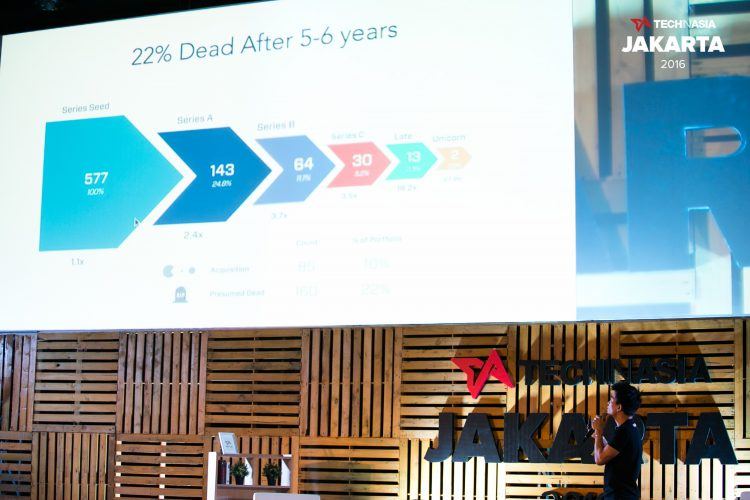 How should founders wage war?
Khailee then outlined five common ways through which founders kill their own startups.
1. Differences between co-founders
"If you don't see eye-to-eye with your co-founder, if there's some resentment, then you gotta kiss and make up quick. If you go to bed angry, then you're in trouble."
2. Continuing with a bad idea
"It doesn't take a genius to discover that if your customer acquisition costs are escalating, customer lifetime value is flat, then something is broken. If you keep feeding this shit funnel, it's a recipe for doom."
3. You tried too many things
In their quest to retain more equity, founders tend to ask investors for less money than they should. But with this limited cash they still hold grand ambitions, meaning they spread their resources thin.
4. Assuming nothing will go wrong
Khailee took the example of a company whose existing investor told them they'd pour in additional cash if the company hit a certain growth target. Despite the startup successfully achieving this metric, the investor backed out of the verbal agreement.
"They were down to only one month of runway, and were lucky to survive."
5. Not asking for help
Investors sometimes have a misconception that if their portfolio companies aren't asking for help or feedback, that means they're doing well. That's not necessarily true. Founders should follow up and maintain regular contact with their investors and have a backup strategy if things don't go to plan.
In his closing remarks, Khailee reiterated his belief that startup people will get a lot of bad news in the coming weeks and months. But he feels that's normal, a sign of a "rational ecosystem."
He wants everyone to take a deep breath and focus.
"The news should not make you, you should make the news," he stated. "The solution to all this stuff is for you to get moving. You pull yourself out of deep shit right the fuck now."
"If you know you're exceeding your expectations, who cares if there's imaginary shit flying around? You got your shit tight."
This is part of the coverage of TIA Jakarta 2016, our conference that took place on November 16 and 17.