Rocket Internet has come a step closer to its goal of turning some of its biggest investments around this year.
The German #startup factory has reported that its "focus" startups cut their aggregate operating losses to US$388 million in 2016 from US$642 million in 2015. These startups include meal kit provider HelloFresh, online food ordering service Delivery Hero, the Global Fashion Group (GFG), African online marketplace Jumia, and home online shops Westwing and Home24.
Without dropping specific names, Rocket CEO Oliver Samwer previously vowed to make three of their businesses profitable by end-2017. He remains bullish about that target.
"In 2016, our select companies progressed on their path towards profitability, while demonstrating further growth," he said in a statement.
It's not a rosy picture overall. The parent firm reported a net loss of US$807 million for last year, more than triple its US$215.2 million net loss the previous year.
Rocket said the loss was due to the deconsolidation of some subsidiaries – after their sale – and non-cash effects, including the slump in the value of GFG, where it owns a stake amounting to about 20 percent.
Rocket's revenue also dropped 60 percent to US$55 million from US$139 million.
A rough road to profitability
GFG's revenue hit the US$1 billion mark last year, while its operating loss narrowed to US$136 million from 2015's US$232 million. GFG consists of fashion ecommerce sites Dafiti in Latin America, Lamoda in Russia and CIS, Namshi in the Middle East, and Zalora and The Iconic in Asia-Pacific.
The other Rocket startups followed a similar path (see table).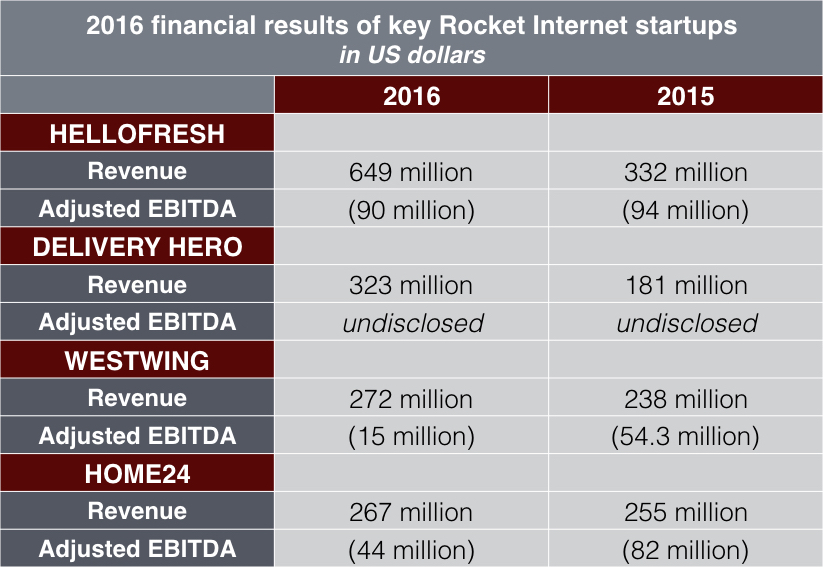 Not all managed to grow their topline. Jumia's revenue was nearly halved from US$157 million to US$92 million. Its operating loss went down to US$100 million from US$175 million.
Rocket doesn't consolidate companies where it holds a minority share, that's why the full amounts are not reflected in its financial statement, its global communications manager Marie-Luise Klose said, responding to our query.
"Furthermore, for several companies in which Rocket Internet holds a participation of more than 50 percent, shareholder agreements exist that lead to ongoing restrictions of Rocket Internet's control over those network companies (i.e. HelloFresh). As of December 31, 2016, Rocket Internet does not consolidate most of its significant network companies but accounts for them using the equity method," she added.
In all, the German firm has over a hundred investments globally, most of which aren't discussed in its financial report.
Rocket's share price has taken a beating over concerns about its startups' ability to turn a profit. It closed at 16.57 euros apiece at the Frankfurt Stock Exchange yesterday, down sharply from its IPO price of 42.50 euros in 2014.
Rocket ended last year with cash worth US$1.5 billion, a bit smaller than the US$2 billion it had in 2015.
Converted from euros. Rate: US$1 = 0.92 euro.