In the last couple of years, I had the misfortune of spending more than a month at a stretch twice in hospitals. The recent one was a freak bike accident that left a lung punctured, knee ligaments torn, and ribs bruised. But the earlier one was much scarier: a nasty strain of dengue that had me partially blind all of a sudden.
The hospital I was admitted to discharged me immediately because they didn't want the risk of a dead patient. Overnight, I was shifted to another hospital. Staring up from the hospital bed, life appeared in an altogether new angle.
Days were a study in helplessness, uncertainty, and dread. Mornings and evenings were measured only by the doctors' visits; and nurses who dropped by twice a day to draw blood for my platelet count, pull out the needle feeding me medicines through painfully swollen veins, and find fresh spots to inject. Outside, a dengue epidemic season raged in coastal India, and almost every day, there was news about dengue deaths. My parents were at their wits' end worrying if I might start bleeding internally without enough warning or if my platelets would crash before a blood transfusion could help.
I got the best treatment money could buy in Mangalore and recovered to tell this tale. But a very small percentage of Indians are as fortunate as I was to afford good healthcare. It's for those who don't get close, personal attention that Stasis Labs wants to help with its cloud-connected vitals monitoring system.
The Stasis Monitor sits at the bedside of the patient and monitors six different vital signs – heart rate, blood oxygen, 3-lead ECG, respiratory rate, blood pressure, and body temperature. "Instead of the numbers and waveforms that stress out patients and family members because they don't understand them, we show icons and colors to represent the status (green = good, yellow = warning)," explains co-founder and COO of Stasis Labs Michael Maylahn.
"Our monitors wirelessly stream the vitals to our tablets. They also send the data up to our cloud for remote access by clinicians. The tablets automatically chart the data, showing patient trends. Everything is driven by software, removing as much as possible from the hardware. This makes it more cost-effective and easier to update – i.e. more future-proofed."
The Stasis Monitor is currently live in a few hospitals in Bangalore, including the prestigious Narayana Health hospital chain.
Stasis is preparing to deploy its device across India as well as other countries. To do that, the #startup has raised a seed funding round of US$5 million led by RTP-Healthcare Ventures. Wonder Ventures, Techstars Ventures, and others participated in the round.
The trauma that spurred innovation
According to Stasis Labs, 75 percent of injuries and deaths in hospitals happen to vulnerable patients who lack basic medical supervision. It estimates that most hospitals have nurses monitoring patients only once every six hours.
Currently, hospitals use vitals monitors only in their intensive care units (ICU) due to the high cost and complexity of existing devices, which are built like desktop computers.
Stasis co-founder and CEO Dinesh Seemakurty paid a heavy price four years ago when his grandfather died due to medical negligence. The doctors at the Indian hospital he was admitted in missed a deterioration in his vital signs because of inadequate monitoring. "As a trained emergency medical technician, I knew the technology existed, and yet, hospitals weren't buying it," Dinesh says.
He met Michael Maylahn at the University of Southern California, where they studied biomedical engineering. Michael had done a three-month medical research trip in rural Costa Rica, which drove home the lack of quality healthcare around the globe. Their personal experiences prodded Dinesh and Michael to work with their classmates Clayton Brand and Derek Nielsen to build the Stasis Monitor.
The less than $5 vitals monitor
Monitoring the vitals signs of patients outside of the ICU is very different from those within, where a patient's condition could decline in seconds. Philips and GE are the two market leaders of ICU vital signs monitors, which focus on live monitoring.
Michael explains to Tech in Asia that most manufacturers have taken existing ICU monitors and repurposed them for those outside the ICU by stripping out some features. "This doesn't consider the work flow differences, the most critical barrier to successful utilization of medical technology in a hospital. ICUs are small and the ratio of clinical staff to patients is high. Family members are also not allowed in the ICU. These monitors don't work when you scale out to a large number of beds, with significantly less clinical touch time and for patients who show trends of declining over hours," he says.
Our monitor is built like a smartphone and focuses on driving it with software.
"Continuous monitoring of vitals is essential for any hospital that strives to improve their clinical outcomes. Stasis Monitors are able to do this without burdening the limited human resources of hospitals and with increased efficiency," explains Dr. Alben Sigamani, head of clinical research for the Narayana Health hospital chain, in an official statement announcing the startup's funding news.
The Stasis device would cost a hospital less than INR300 (US$4.4) per day to monitor a patient.
"Our monitor is built like a smartphone and focuses on driving it with software. It is designed from the ground up for non-ICU application," Michael explains.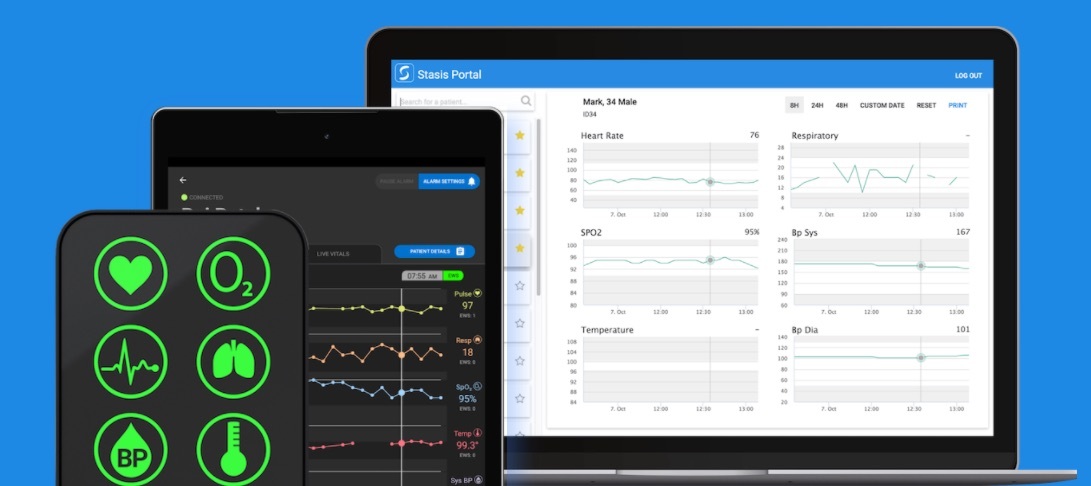 Stasis estimates a market size of US$26.2 billion by 2022 as non-ICU monitoring is increasingly being prioritized.
See: 4 healthtech startups that could soon be unicorns in India
Besides Stasis, there are a few new patient monitoring companies like Sotera Wireless which target the non-ICU space. But even they haven't yet effectively considered workflow, according to Michael. "First off, they [other monitors in the market] are bulky and thus uncomfortable to patients. Second, they are wireless and this causes confusion of which patient is connected to what sensor in the hectic hospital environment. Also, they are battery-powered, requiring clinical staff to remember to charge the sensors – something we've heard over and over to be a big issue," he says.
"Wireless is the future, but hospital workflow is nowhere near ready to adopt this. We plan to enter wireless when hospitals are ready," he adds.
Stasis Labs was a part of the first cohort of the Techstars healthcare accelerator, in partnership with Cedars-Sinai. Recently, the International Finance Corporation, part of the World Bank Group, endorsed Stasis.
While the company is based in both Bangalore and Los Angeles, the Stasis Monitor is manufactured in Bangalore's home state Karnataka.