"What are you paranoid about in this huge window of opportunity that has suddenly opened for you?" I asked Vijay Shekhar Sharma, founder and CEO of Paytm, in an interview a couple of days ago in Delhi. This was right after he had launched a new feature in the Paytm app to solve the problem of card payments in India.
The best thing is to get into more things; the dumbest thing is to get into more things.
The Alibaba-backed company has been seeing half a million new users on its digital wallet every day since the Indian prime minister Narendra Modi suddenly withdrew high denomination currency notes on the evening of November 8. That, coupled with stringent caps on the amounts that can be withdrawn from banks, has been a godsend for Paytm. But it also faces new challenges in handling the rapid scaling up and new possibilities which have opened up.
"I'm paranoid about tech scale, process scale, people scale… While we're growing this, we shouldn't be spread too thin," Vijay said in reply to my question. "The best thing is to get into more things; the dumbest thing is to get into more things," is how he summed up his dilemma, which most startups would consider a happy problem to have.
He wouldn't have imagined it would be so prophetic so soon.
Mobile POS put on hold
Yesterday evening, Paytm had to put on hold its new feature enabling mom-and-pop stores as well as all service providers – from the repairs man to the housemaid – to accept card payments without the need for card-swiping machines. "Based on some suggestions from the industry, we have decided to add additional certifications and features before making it available to merchants. We will re-launch this product as soon as we have updated the product," Paytm said in a blog post.
Mastercard and Visa are reported to have raised a red flag over the risks of entering card details into a merchant's Paytm app. On its part, Paytm has said the app doesn't store card details and the transaction is completed on a bank's page with 2-factor authentication. But this cut no ice with the card companies.
Tech in Asia readers also pointed out other avenues for fraud after the launch of Paytm's so-called mobile POS (point-of-sale machine). An app masquerading as Paytm could capture card details, some said. It's not clear how this would be different from phishing risks on shopping websites, but possibly the mass use of a mobile payments app would take it to a different level of user who is not as digitally savvy as netizens.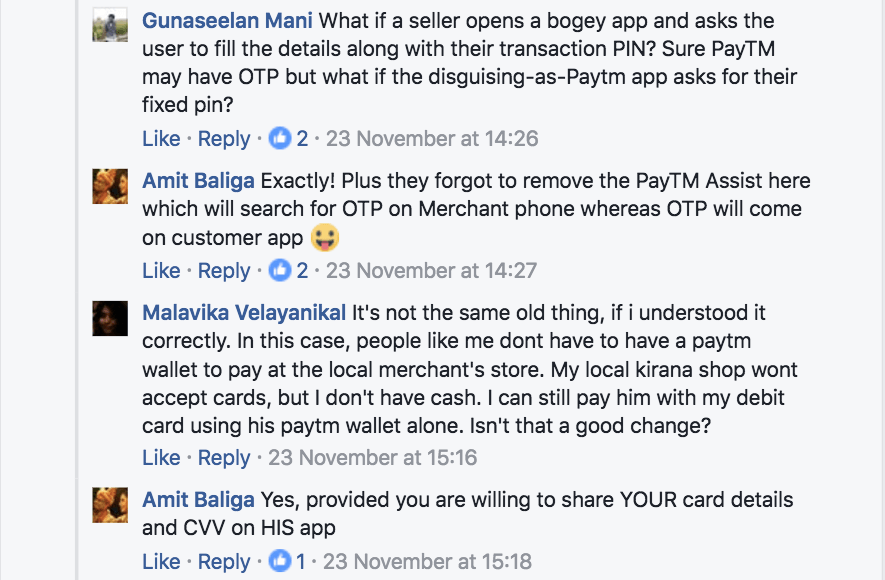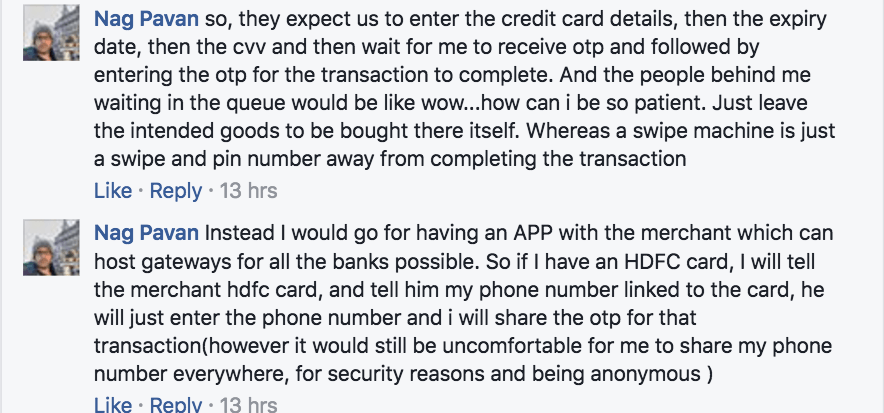 See: Why India took the drastic step to go cashless
Paytm vs card companies
What is clear, however, is the need for innovative payments solutions to mitigate the cash crunch in the country and support the government's push towards a digital economy. One of the unsolved problems is the low level of card payment acceptance offline. There are 740 million credit and debit cards in the country, but only 1.5 million card-swiping machines.
Somebody using a digital wallet like Paytm doesn't have to use a card to make payments. But that requires both the customer and the merchant to be users of the same wallet. Paytm, which has the largest user base, claims to have around 160 million users in a population of 1.3 billion.
Ironically, Vijay told me the card companies themselves had earlier been eager to come on to the Paytm platform to expand their reach to small and medium businesses. But until now Paytm hadn't allowed other payment instruments in its wallet. Now that it has done so, the card companies are doing a double take.
One factor in this is the zero fees Paytm has for merchants accepting card payments, unlike the transaction fees charged on other channels, ranging from 1 to 4 percent.
See: Alibaba-backed Paytm is laughing all the way to the bank
Wheels within wheels
A more subtle angle is that cards become superfluous once Paytm becomes ubiquitous – it's more convenient to use a wallet when the cap on how much money it can store is raised. Paytm got approval from the Reserve Bank of India for a "self-declared" merchant to store up to INR 50,000 (US$730) a month in the app, and that becomes unlimited after a know-your-customer (KYC) authentication process.
Also, once a customer sees merchants using the Paytm wallet, it's quite likely for him or her to download the app too and choose a more convenient payment mode than a card.
But with so many major stakeholders affected by this, it's not going to be a frictionless path for Paytm, which needs banks and card companies to allow the payments to go through. What it does have going on its side is that it is trying to ease the cash crunch and move people to digital payments – and that's what the government wants to do as well.
Our friends [Alibaba] have done it for many years and built a gourmet solution.
It also has Alibaba on its side, which has dealt with scaling and security issues on a much larger and more complex level with Alipay. Fraud control is one of the main areas where Alibaba has been helping Paytm after becoming its largest investor, Vijay told me. "Our friends [Alibaba] have done it for many years and built a gourmet solution."
The security flag raised over its card payment feature is not the only hurdle that Paytm is trying to overcome.
It received a license to be a payments bank – a new banking entity limited to the purpose of digital payments – which would be a huge boost to Paytm because it removes the pain of frequently replenishing wallets from bank accounts. Paytm announced a Diwali (October-end) launch of its payments bank, but it is still awaiting a final nod from the RBI.
Two days ago, on the very day Paytm was launching its mobile POS, major telecom operator Airtel, which is among the 11 new licensees, launched its payments bank. But Vijay was unfazed. "We were the 31st mobile wallet to launch in the country and now we're the biggest," he pointed out. He hopes to have the last laugh again.