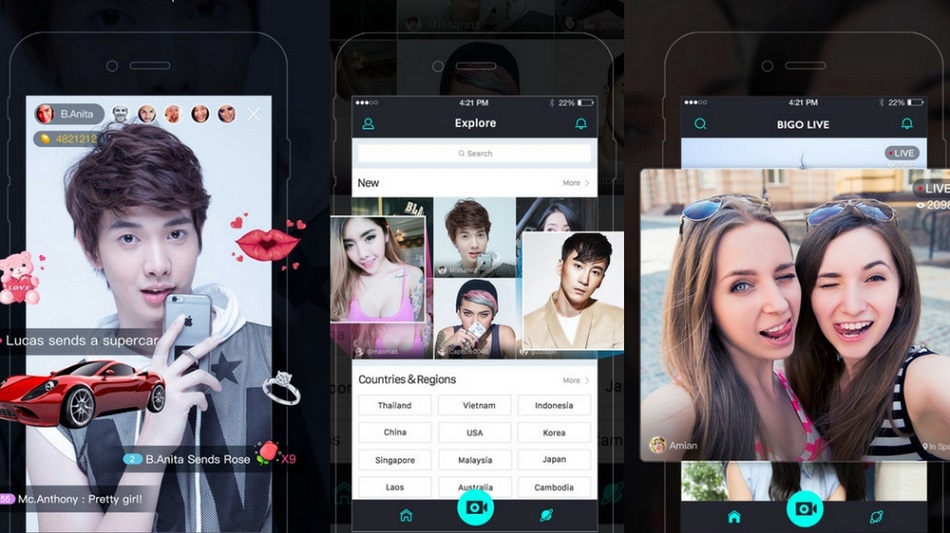 Singapore-based Bigo Live, the social video streaming app that has taken Southeast Asia by storm, has closed its series C funding round, led by Ping An Overseas Holdings. The investor is an asset management firm owned by China's Ping An Insurance Group, which is mainly engaged in insurance and banking, and has close to 300,000 employees.
The undisclosed sum brings its total funding to date to US$180 million and its valuation to over US$400 million, the company says in a statement today.
A Persicope clone, Singapore-based Bigo Live allows its users broadcast videos anytime and anywhere, and follow other users they like. It's heavy on game-like elements: you can send digital gifts – from tiaras to sports cars – that are paid for by diamonds purchased through cash. Those gifts are turned into beans, which can be exchange for diamonds or cashed out for real money.
Bigo Live is most popular among young people aged 18 to 25, it says. In a year since its launch in March 2016, the app has attracted 70 million registered users worldwide, who use it for an average time of 40 minutes daily. Monthly active users have reached close to 30 million. It didn't mention revenue and other financial details.
The app, however, has earned the ire of regulators in some markets for allegedly violating rules against display of nudity. Some live video channels on it have been flirtatious, if not openly suggestive, with pretty girls – and sometimes guys – coaxing viewers into showering them with gifts.
Bigo Live has topped the Google Play and App store downloaded charts in Thailand, Vietnam, Indonesia, Singapore, Malaysia, and the Philippines numerous times. Following its success in Southeast Asia, it plans to expand its footprint to new markets.
"To support its rapid growth, Bigo Live will continue to scout for great talents across nations and enable local expansions in Europe, United States, India, Russia, the Middle East and some other key countries," it says. It will also continue to heavily invest in research and development.
The company is also backed by Chinese powerhouse YY, a social network that also relies on video, and its founder David Li. Other investors include BAI (Bertelsmann Asia Investment Fund), Morningstar Capital, and Gao Rong Capital.