One day Ram Chiniarlapalla returned home from work asking himself if it was worth it.
Ram had quit as a director of Microsoft to become an entrepreneur. Suddenly, everything was different.
The way people treated him was different. He was still chafing from his experience in Delhi. He had gone there to meet a potential customer, who had agreed to meet him on either one of two days. He had booked his Hyderabad-Delhi flight and hotel room early to get cheaper rates. Before flying out, he had tried calling several times to confirm the meeting time and got no response. He had gone anyway.
I've realized that what made me stronger are the hardships I went through.
From morning to evening, he waited in the potential customer's office. Finally, around 4 pm on the second day, he lost it. "Don't treat us like this. We are also human beings," he told the man he had gone to meet, when he got a chance.
Now, here he was at the crossroads. He had lost his confidence. That evening he had a long chat with his wife. Questions were constantly popping into his head. Should he continue with this or return to his well-paying corporate job? Was it worth it to suffer the slings and arrows of entrepreneurship?
He had no answer. Finally, Ram decided to spin a coin. Heads he continued, tails he went back. It turned up heads.
The road to Jakarta
"Was it a trick coin, with heads on both sides, to fool your wife?" I asked him, and we both had a hearty laugh. This was a few months ago in Bangalore, nearly two years after that fateful evening when a toss of the coin decided which road he took.
Ramakrishna Chiniarlapalla was in a happier place in his entrepreneurial journey now. His #startup Spoors was among 45 Indian software product startups selected by iSPIRT for the annual InTech50 event in Bangalore, where founders make pitches to global CIOs (chief information officers). That's where we first met.
Now, seven months later, with over 120 customers under the belt, Ram is headed for new pastures. Spoors will have a booth in Tech in Asia Jakarta's Bootstrap Alley in a couple of weeks, on November 16 and 17, along with other startups showcasing their products.
"We are exploring opportunities to find partners and customers in Indonesia, Vietnam, and Myanmar," Ram tells me. "We think this part of Asia, with similar demographics to that of India, is a good market for us."
See: 45 hot software product startups from India and their cool ideas
Tracking spoor
If you google 'spoor', you will find lots of links to pugmarks and droppings that trackers use to trail wild animals in the jungle. Spoors – which has pugmarks for the two o's in its logo – tracks humans.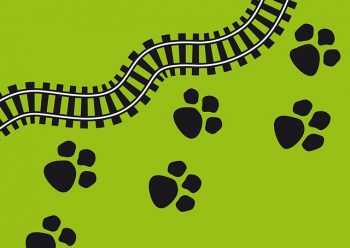 Its cloud-based software, integrated with mobile tech, lets businesses track and manage their workers who are out in the field for sales, deliveries, or other operations. This helps to optimize their effectiveness and productivity. The product is called EFFORT, but means the opposite – Effortless Field Force Optimizing and Reporting Toolkit.
There are several field force management tools in the market, but they are mostly specific solutions to particular problems in sales, logistics, or other operations. "Our product is highly configurable to fit any field business process or delivery. So it can be adapted to any vertical and handle any field business challenge," explains Ram.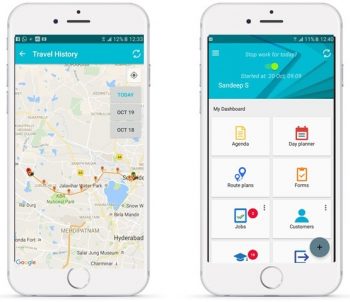 The increasing focus on customer service and last mile issues faced by ecommerce, logistics, healthcare, banking, telecom, hospitality, and other industries, coupled with the rise in mobility and need for connecting the online and offline spaces, makes holistic SaaS products like Spoors important enablers. Even in manufacturing, IoT is shifting the focus to monitoring and servicing of the machines deployed in the field.
The Spoors product is designed for ease of use through a mobile app integrated with an organization's backend systems. No coding is required to configure it for different purposes and industries. Reliance, GoiBibo, Redbus, Mahindra Finance, and Nepal's telecom operator NCELL are among its 120 users.
But Ram never got the deal from that potential customer in Delhi who kept him waiting in the office for two days.
Corporate baggage
"I shouldn't have let my ego get the better of me," Ram tells me ruefully, while recollecting how he had vented his frustration. "It was his choice whether to meet me or not. Who was I to tell him how to conduct himself?"
It hasn't been easy for him to make the transition from corporate life to entrepreneurship in middle age. He was one of the youngest directors at Microsoft, heading its business intelligence center in Hyderabad. Before that, he had been an IT manager at Intel for five years.
I shouldn't have let my ego get the better of me.
So he had solid experience in developing and managing software products at two of the world's biggest tech companies. He had seen different products being deployed for sales, services, scheduling, collections, planning, alerting, data filling, et al. Why not bring everything together in one configurable product for multiple field uses – like a Swiss knife?
That was the idea with which he left Microsoft. He threw himself into developing the product and felt he had something beautiful, which actually worked in a plug-and-play way. "Many people promise a lot, but the product doesn't work. They take the contract and then start building it. We were not like that," he tells me.
But when it came to selling the product, he found himself all at sea. The product was designed for easy configurability, but customers still wanted on-site support. He wasted time chasing big leads and lost out on better customers. The UX sucked and conversion rate was low. He needed money and brought in a friend as a private investor, who added no networking value, which was vital at an early stage.
Most damning of all was a techie mindset. "I come from a tech product background. We tend to undersell ourselves."
See: How this pioneer built a SaaS hub in Chennai from scratch
Enough of analysis paralysis
Most of that is behind him. Now he has to deal with the problem of scaling too fast, which can lead to performance issues. And he has to still keep hustling. He didn't leave Microsoft just to run his own business in a comfortable, sustainable way. The point was to make something big.
He still asks himself occasionally if it has been worth it. His kids used to go to an international school, but he had to shift them to a more affordable one. Their friends go on international trips and live in apartment complexes with swimming pools. They ask him why they can't stay in a place like that.
"It gets to you," says Ram. "But you persuade yourself that whatever they're going through is good for them too." He hopes one day they will understand.
"I've realized that what made me stronger are the hardships I went through. My first job paid me only INR 1,200 (US$18) a month. Then I grew fast and became comfortable."
Now, after becoming an entrepreneur, he has gone through a second cycle of hardships. It has reinforced in his mind that the reason he has become stronger and a better person is because of hardships and not the money he was earning. "So let my kids go through it also, instead of having it easy. If it has been true for me twice, it will be true for them."
He has stopped trying to analyze if it's worth it. He just focuses on what needs to be done. "Now that I've started, I have to see it through."