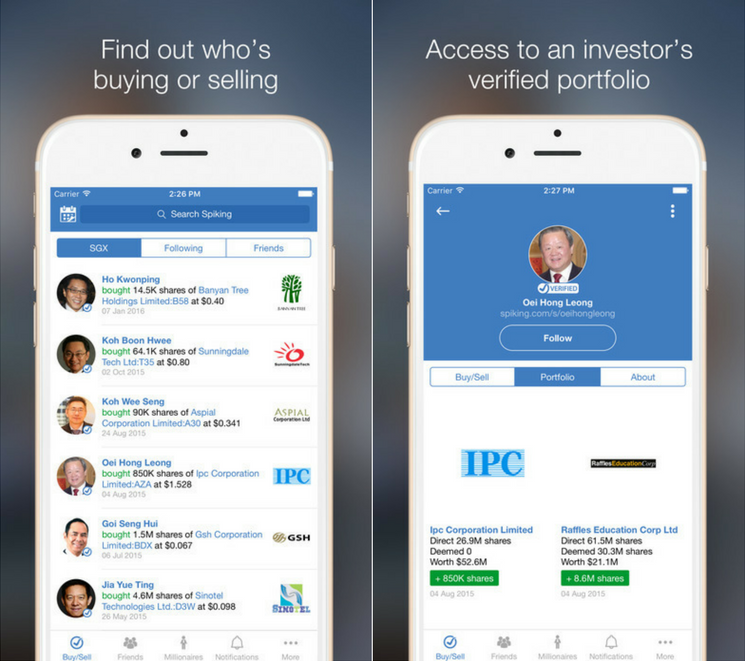 Spiking is an app that lets you mimic big investors as they buy and sell on the stock market.
There's a ton of social trading apps out there, but the free software claims to let you follow real trades as they happen, rather than rely on rumors.
The app now tracks 10 stock exchanges in eight countries:
Australian Securities Exchange (ASX)
Hong Kong Exchange (HKEx)
India – Bombay Stock Exchange (BSE) and National Stock Exchange (NSE)
Bursa Malaysia
Philippine Stock Exchange (PSE)
Singapore Exchange (SGX)
Stock Exchange of Thailand (SET)
Vietnam – Hanoi Stock Exchange (HNX) and HoChiMinh Stock Exchange (HOSE)
Some of the investors users can follow include Lee Boon Yang, a former Singapore government minister, and Aberdeen Asset Management, a multi-billion dollar fund.
Aly, the Singapore company behind this app, has secured funding from prominent investors. Some of them include Douglas Foo, chairman of restaurant chain Sakae, and Koh Boon Hwee, ex-chairman of DBS Bank.
They are part of a US$755,000 seed round, which includes:
Andrew Chen, managing director of Raffles Asia Capital
Lim Ah Hock, executive chairman of Pestech International
Loo Cheng Guan, independent director of Valuetronics
Ong Chu Poh, group CEO of Eco Healthcare
James Tan, managing partner of Quest Ventures
Toh Soon Huat, chairman of Novena Foundation
Kazumasa Tomita, founder and CEO of Zuu