After a long wait, Amazon has finally landed in Singapore, with this week's launch of its two-hour delivery service Prime Now.
While it's tight-lipped about any plans to expand beyond the city-state, the rollout is believed to be just a first foray – a prelude to big push into Southeast Asia, a market of over 600 million consumers.
Currently, online shopping accounts for less than 5 percent of all retail in this region, but it's projected to multiply on the back of surging smartphone use and a rising middle class. A 2016 report by Google and Singapore's sovereign fund Temasek pegs ecommerce spend in the region at US$88 billion by 2025, from only US$5.5 billion in 2015.
Amazon's entry has taken Southeast Asia's ecommerce wars to a whole new level. There will be winners and casualties. Here's a list based on the insights we've gathered from people closely watching this space.
Winners: consumers, merchants, online shopping
Consumers benefit whenever new players join the fight. It means more choices, better quality, prices and services, and more attractive promotions.
"The standard of fulfillment will be higher – especially with Amazon's Prime features," said Mevira Munindra, research manager at IDC Indonesia, to Tech in Asia.
Third-party merchants also stand to gain if Amazon introduces its marketplace.
"Amazon will need to find partners with local knowledge, offer incentives to persuade them to join its platforms and invest in capturing market share. One way it may be able to lure Asian vendors is by offering them easier access to Western markets where it has a strong footing and established infrastructure," said Thompson Teo, an associate professor at National University of Singapore Business School, in a column on The Straits Times.
But the best thing in Amazon's entry is the expected acceleration of the speed of innovation in the online retail space, according to David Chmelar, CEO of ecommerce aggregator iPrice. "As most Southeast Asian consumers have never shopped online, it should further accelerate adoption of online shopping."
Hyun Wook Cho, country manager of Qoo10, one of Amazon's competitors in the region, shared a similar view. "The launch of Amazon Prime will have a major impact on the transition from brick-and-mortar retail to online."
That means the market could grow even bigger than that US$88 billion prediction, certainly a huge opportunity for ecommerce players in general.
Losers: traditional retail, small ecommerce firms
Hence, traditional retailers will be the biggest loser of all. Case in point: in Singapore's most famous shopping belt, Orchard Road, many shops have been pushed out of business, causing property rents to drop double-digits over the past few years, The Straits Times reported, citing a study by a real estate consultancy firm.
Enter Amazon – and the challenge steps up another gear for these brick-and-mortar stores.
Raghav Kapoor, co-founder of Singapore-based investment research portal Smartkarma, believes Amazon will undertake "a siege" on retailers.
"It's going to happen so fast and the people are not going to know how to react and what to do," he explained in an interview.
While ecommerce won't completely eliminate physical stores – as "many consumers still want to see or feel certain goods before they purchase" – they are still at the losing end, Munindra told Tech in Asia. Amazon's foray makes the "need for transformation" among retailers even more urgent, she added.
Shopping agents such as Singapore's Vpost and Ezbuy, which allow people to shop from overseas websites, could also be hit.
Of course, we'll also see losers among ecommerce players themselves. Everyone – big or small – "will need to fasten their belts" as Amazon shakes up the sector, stated Munindra.
Unlike in the US, the online shopping battle in Southeast Asia has many corners. The biggest Amazon contender is the Alibaba group – composed of Lazada, Redmart, and now possibly Indonesia's Tokopedia.
Amazon will also be facing off with another Chinese behemoth, Tencent, and its main weapon, JD. Plus there are other regional players like Sea-backed Shopee, country champions like Bukalapak – Tokopedia's rival in Indonesia – and Qoo10 in Singapore, as well as several niche and indirect competitors like Singapore's Carousell.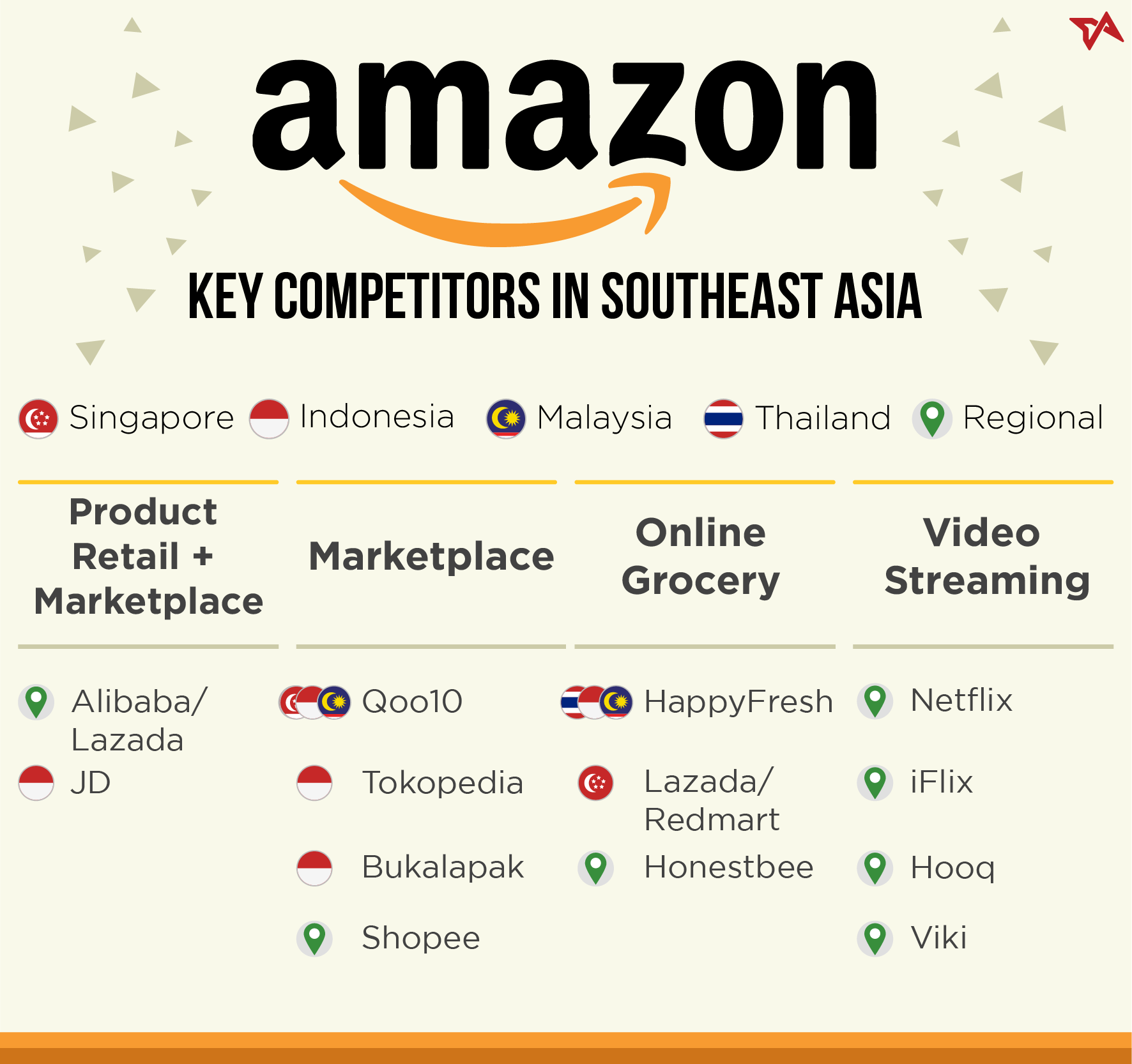 "There will be losers in each group," said Chmelar, "but some may win their categories."
Startups with no major financial backing will "find it difficult to compete with Amazon's deep pockets," according to Singapore-based market research firm Blackbox.
This is especially true in the city-state where 86 percent of online shoppers will likely purchase from Amazon's new local app, a Blackbox survey shows. Singaporeans – already avid online shoppers and big users of Amazon's overseas sites – "appear to be willing to make the switch" from other ecommerce apps, "potentially placing many existing players into the firing line."
Among those who will feel the heat, according to Blackbox, are Qoo10, the Alibaba-Lazada alliance, and Ebay. Netflix will also have to compete with Prime, Amazon's membership program that offers access to a growing library of digital content – also soon to launch in Singapore. The survey – see the full results – was conducted among a nationally representative sample of 1,000 adults in November 2016.
Asked for a comment, Qoo10's Cho said, the heat "will actually benefit us" as competition will push more consumers to be online. "Most of the consideration factors for consumers will be about price and service – in both aspects, I believe that we will still retain our competitive edge, due to our expansive merchants' networks and strong service infrastructure."
Carousell doesn't see much impact since unlike regular sites that are about buying brand-new items, "we're focused on helping individuals declutter and sell their unused and preloved items," a spokesperson said. "So we welcome Amazon's arrival in Singapore!"
Shopee and Netflix both declined to comment and we haven't heard back from Lazada and Ebay.
In the meantime, VPost parent SingPost didn't comment on whether they would see any impact, except to say, "We believe that SingPost is ideally positioned with our network, services, and the geographical advantage of Singapore's strategic location to ride on the growth of ecommerce logistics in Southeast Asia and beyond." Ezbuy hasn't responded to our query.
The epic battle
Ultimately, the whole thing will shape up as a straight fight between giants Alibaba and Amazon, Blackbox managing director David Black told Tech in Asia.
With Amazon still testing the waters, Alibaba would seem to have first-mover advantage building an ecommerce empire, even preempting the launch of Prime by rolling out its own version called LiveUp in a tie-up with Netflix and Uber.
For Amazon, entering Singapore is an easy first step, said Teo in his column. "Its spending power, business-friendly legal framework, strong infrastructure and established ecommerce culture are closely matched to Western markets where it is well-established." The challenge now lies in taking its operations across the diverse and fragmented region, where Lazada has gained market leadership.
"Amazon's entry will definitely create hype in the market, but it might take them a while to adapt to local preferences and purchasing habit," echoed Cho.
Even in Singapore, Cho said Amazon could find "the competitive prices and high marketing cost at this stage of the entry might not be sustainable in the long term."
Payments, a vital component of ecommerce, is another battlefield where Alibaba has made headway thanks to Ant Financial, and a potential advantage in the future.
Black believes Singapore will be a sort of test. "It is a West meets East crossroads so other big global players will also be looking closely to see if the Amazon bandwagon can be halted by a Chinese giant with genuine global aspirations."
That suggests it might not be just a two-horse race. In fact, Amazon's entry puts it right in the middle of a proxy war with Alibaba and Tencent.
It's too early to say how Amazon will match the two Chinese superpowers, but it would come as no surprise if it also starts snapping up some assets rather than build from scratch, said Munindra. At least in Indonesia, "Amazon acquiring local players to have a big presence and exposure in Indonesia is likely to happen."
See: The stage is for the Amazon vs Alibaba battle in Southeast Asia
Satish Meena, Forrester senior forecast analyst, thinks it's unlikely that the US company will invest as aggressively in Southeast Asia as it has done in India. "They will take their time, increasingly grow their investment in logistics, warehousing, and everything. So that they can gain the customers and gain them for a long time," he told CNBC.
For now, Singapore, while small, will be significant in terms of unraveling the giants' respective strategies, Black concluded. "It really is a fight for the future."
Amazon wasn't immediately available for a comment.